Skip to Content
"Traveling—It Leaves You Speechless, Then Turns You Into A Storyteller"
Bilbrey Tours is Abilene's leading resource for tourism opportunities, providing the time to travel, relax, and enjoy the amazing things this country has to offer. Read below to learn about the featured destinations for December 2021.
Smoky Mountain Christmas
November 30 – December 7, 2021
(8 days – 7 nights)
Departing Abilene, Big Spring, Midland and San Angelo
$2189 per person (2 people per room)
$2779 per person (1 person per room)
Travel Protection Insurance -$187 per person
$50 due upon booking-Final due September 24, 2021
Highlights Include:
2-nights Pigeon Forge, TN
Biltmore Mansion Tour, Asheville NC
Biltmore's Deerpark – Lunch & Dinner
Country Tonight Christmas Show
Incredible Christmas Place
Christ in the Smokies
Asheville City Tour
Bush's Beans Visitor Center
Old Friends Farm – Georgetown, KY
Meals: 7 continental breakfasts, 9 lunches or dinners
Photo Courtesy of ExploreAsheville/CanStock/Bilbrey Tours, Inc.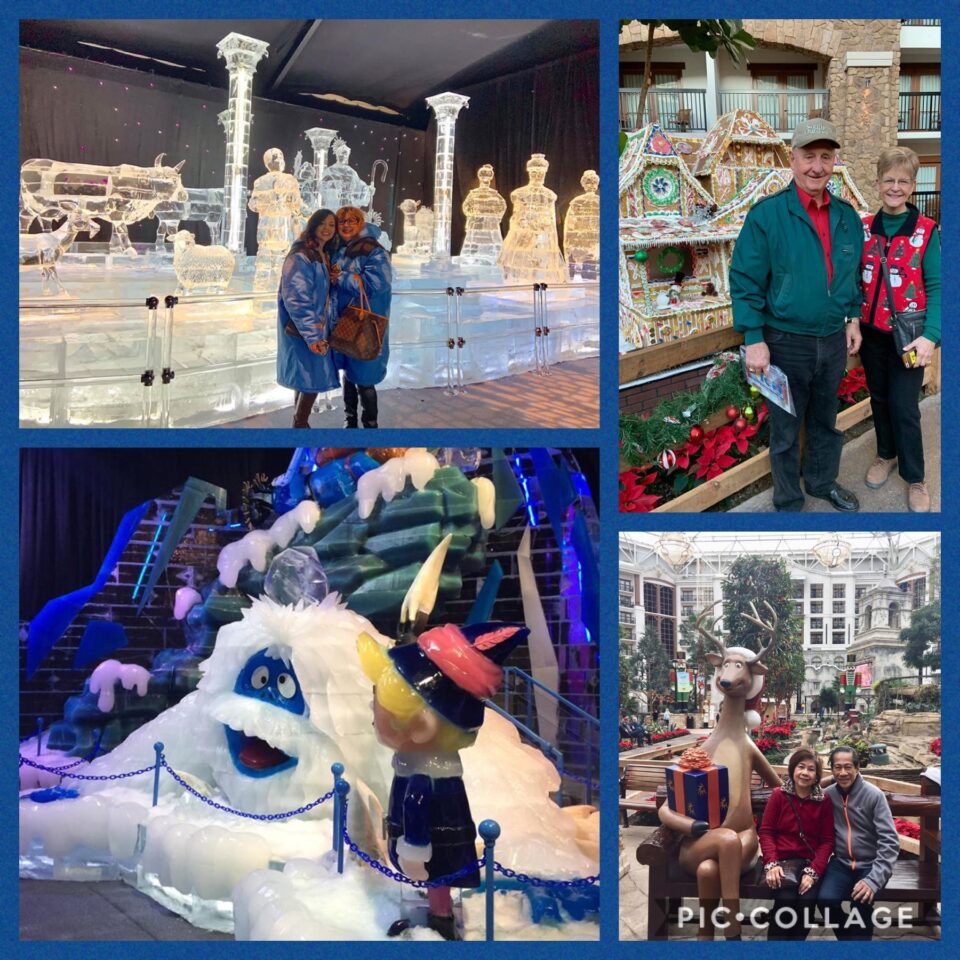 Grapevine Christmas
Thursday, December 2, 2021
Departing Abilene
$125 per person
$25 due upon booking – Final due October 15, 2021
Highlights Include:
Discover the magic in Grapevine, the Christmas Capital of Texas!
Gaylord Texan Resort in Grapevine brings the magic of a winter wonderland indoor with its annual ICE! exhibit.  Featuring more than 2 million pounds of colorful, hand-carved sculptures created by more than 40 ice sculptors into symbols of Christmas and holiday characters.  ICE! also boasts one-and-a-half million twinkling lights, 12,000 ornaments, a 52-foot tall rotating Christmas tree, and a life-sized gingerbread house.
Shopping at Grapevine Mills Mall with more than 180 discount stores to include Burlington, Ann Taylor, Chico's Outlet, Marshalls, Disney Outlet, Neiman Marcus Last Call & Saks Fifth Avenue Outlet
Photo Courtesy of Bilbrey Tours, Inc.
Gift of Christmas
December 10 – 11, 2021
Departing Abilene
$399 per person (2 people per room)
$459 per person (1 person per room)
Travel Protection Insurance – $50 per person
$25 due upon booking – Final due October 1, 2021
Highlights Include:
The Gift of Christmas performance features a living Nativity, live orchestra, and a 500-member choir
The 12 Days of Christmas are showcased at the Dallas Arboretum, each in a 25-ft glass-encased gazebo
George W Bush Presidential Library and Museum; featuring "Christmas at the White House"
Shopping time at Stonebriar Centre in Frisco with a variety of shops to include Dillard's, Nordstrom, Macy's, and JCPenney
Meals:  1 continental breakfast & Christmas dinner
Photo Courtesy of Prestonwood Baptist Church; Dallas Arboretum