Skip to Content
"The joy of life comes from our encounters with new experiences."
Bilbrey Tours is Abilene's leading resource for tourism opportunities, providing the time to travel, relax, and enjoy the amazing things this country has to offer. Read below to learn about the featured destinations for April 2023.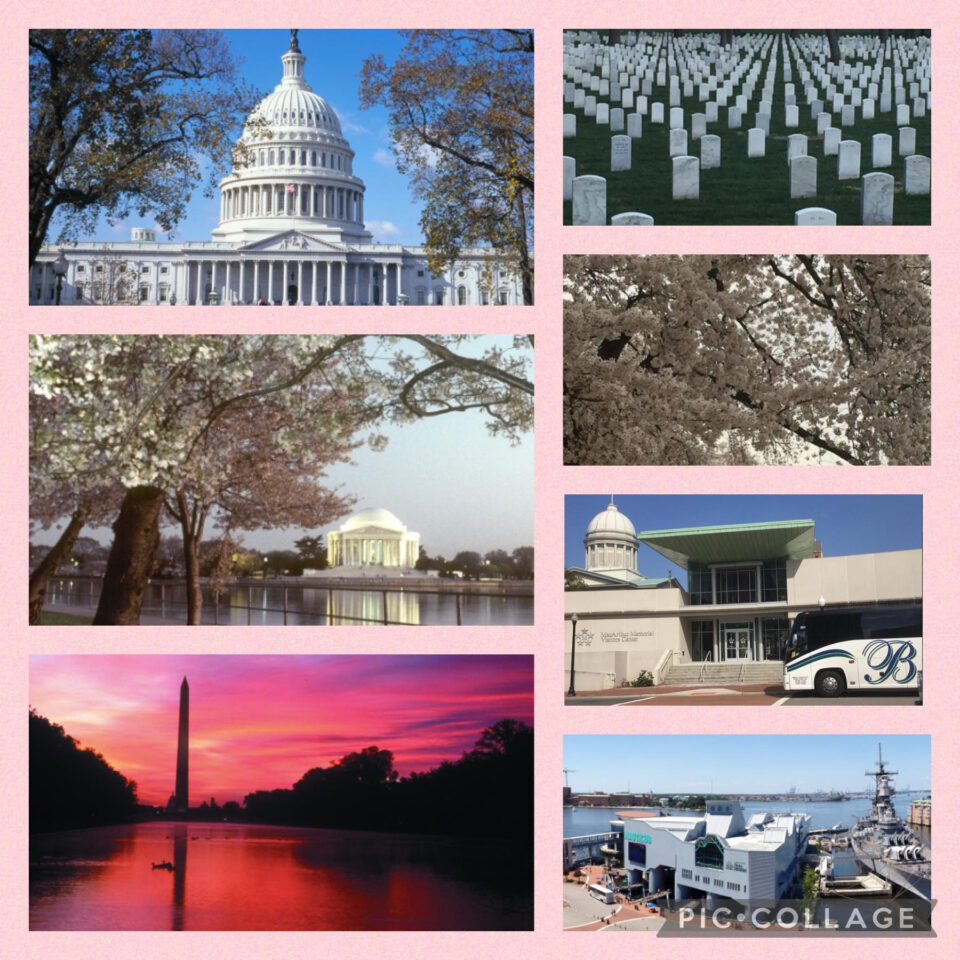 America the Beautiful
Including Washington DC
April 5 – 17, 2023
(13 days – 12 nights)
This 13-day tour crosses 10 states:  Texas, Arkansas, Tennessee, Virginia, North Carolina, South Carolina, Georgia, Alabama, Mississippi, Louisiana, and the District of Columbia; never to retrace any road until our final day entering Texas.
Departing Abilene, Big Spring,  Midland, and San Angelo
$3449 per person (2 people per room) – Ins $248
$4385 per person (1 person per room) – Ins $313
Travel Insurance (Age 25+):  $248- $313 per person
Final payment due upon booking
Photo Courtesy of VisitNorfolk/Bilbrey Tours, Inc.
Washington DC during Cherry Blossom season
3 nights Washington DC
3 nights Norfolk VA
Smithsonian Museums
Lincoln Memorial
Vietnam Veterans Memorial
White House (exterior viewing)
Museum of the Bible
Arlington National Cemetery
Tomb of the Unknown Soldier
Monticello
Mount Vernon
National Museum of US Army (opened 2020)
Norfolk Naval Air Station
Battleship Wisconsin
Douglas MacArthur's Memorial Museum
Wright Brother's Kitty Hawk
Bodie Lighthouse
NASCAR Hall of Fame
Meals:  7 breakfasts, 5 continental breakfasts, 10 lunches or dinners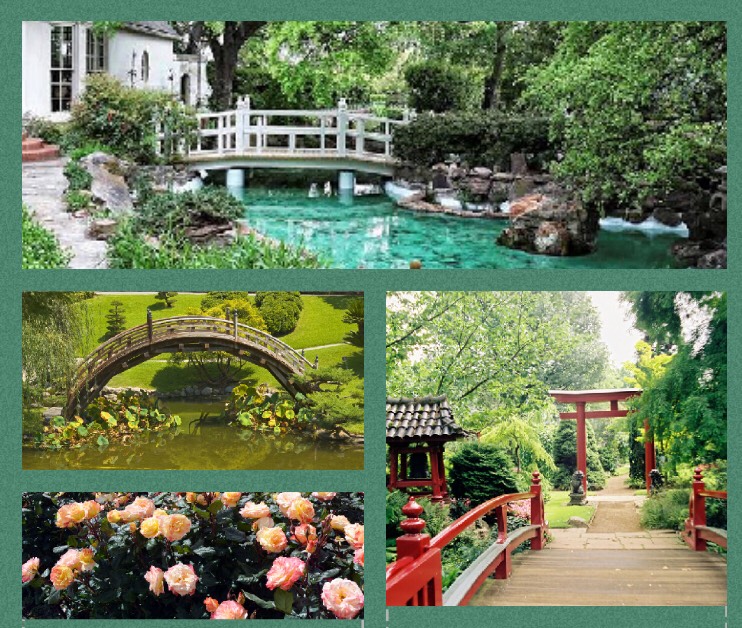 Springtime at the Gardens
Thursday, April 13, 2023
Departing Abilene
$159 per person 
Final payment due upon booking
Highlights Include:
Fort Worth Botanic Garden, established in 1934, is the oldest major botanic garden in Texas.  Enjoy the 23 specialty gardens including the Japanese Gardens, which feature 7.5 acres of tranquility including pagodas, waterfalls, statues, meditation gardens, Azaleas, Cherry, Peach trees, and more.
Chandor Gardens captures both the ornate design of ancient Chinese architecture and the elegance of the formal English garden.  Enjoy the meandering path of beauty and wonderment of this 3.5-acre garden.  From the 30-foot man-made waterfall to the various soothing fountains, the gardens have something new and exciting to offer at every turn.
Lunch included
Photo Courtesy of Chandor Gardens/CanStock/Bilbrey Tours, Inc.
Shades of Ireland
featuring Northern Ireland
April 20 – May 2, 2023 (Fly)
(13 days – 12 nights)
Roundtrip transportation to DFW
Roundtrip air from DFW; call for prices from other airports
2 nights in Dublin
2 nights in Killarney
2 nights in Derry
2 nights in Belfast
Blarney Castle
Irish Evening
Ring of Kerry
Cliffs of Moher
Tour is operated by Collette Vacations
Photo Courtesy of Collette Tours
NOTE: Passport and Vaccinations Required
Waterford
Kilkenny
Donegal Town
Giant's Causeway
Glens of Antrim
Titanic Experience
Farm Visit
Jaunting Car Ride
Traditional Irish Ceili
Choice of Dublin walking tour or bus tour of St. Patrick's Cathedral and more
Choice of Waterford Crystal factory tour or Medieval Museum guided tour
Meals: 11 breakfasts and 6 dinners
Matinee at Plaza Theater in the heart of historic downtown Cleburne, TX
Will Rogers Follies is the rags-to-riches story of America's beloved stage, screen, and radio star, Will Rogers.  Enjoy this heartwarming humorist who spun a rope, poked fun at headlines, and never met a man he didn't like.
Tony Award-winning musical that captures the American spirit at its up-tempo best.
Lunch included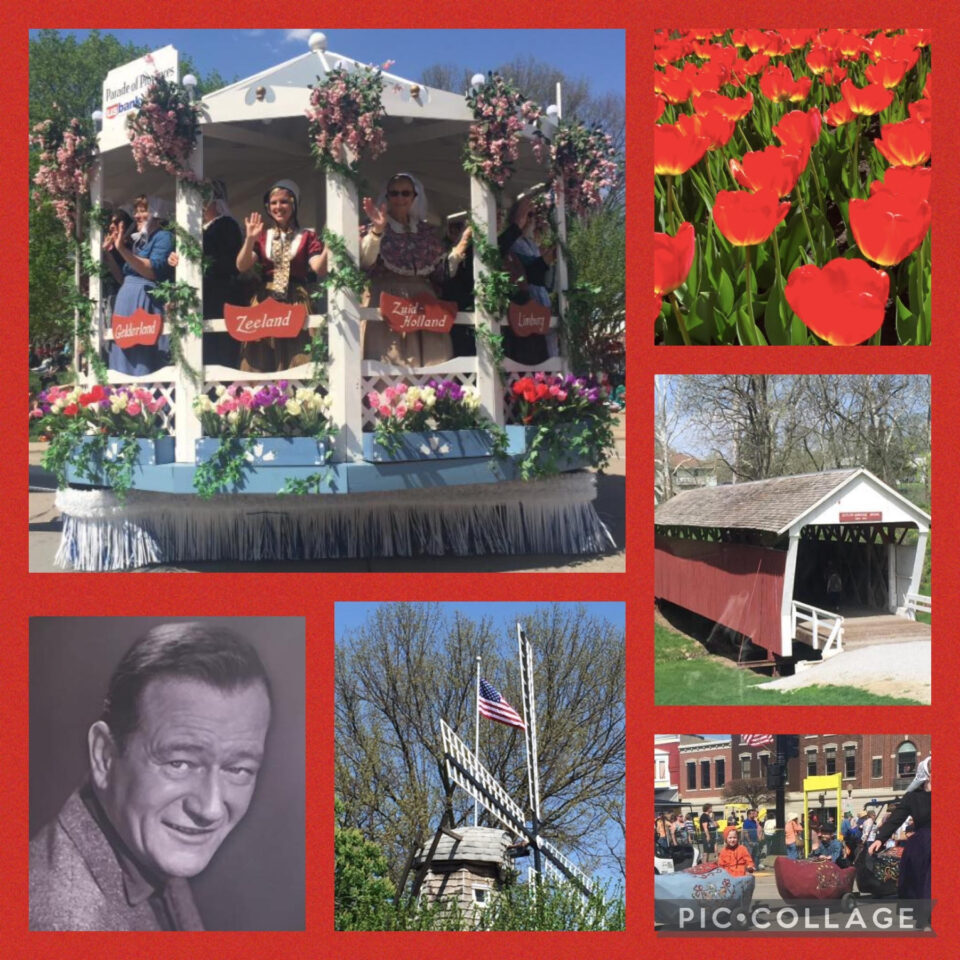 Heartland of America
Including the Iowa Tulip Festival
April 30-  May 7, 2023
(8 days – 7 nights)
Departing Abilene, Big Spring, Midland, and San Angelo
$1919 per person (2 people per room) – Ins $137
$2395 per person (1 person per room) – Ins $187
Travel Insurance (Age 25+):  $137- $187 per person
$50 due upon booking  – Final due March 3, 2023
Photo Courtesy of Bilbrey Tours, Inc.
Pella Iowa Tulip Festival
Historical Dutch Village
Klokkenspel
Vermeer Dutch Windmill
Lighted Volks Parade
Dutch Dancers and Street Scrubbers
Herbert Hoover National Historic Site
John Wayne Birthplace & Museum
Covered Bridges of Madison County
Mark Twain Home and Center (Hannibal, MO)
Winston Churchill National Museum
Tour of Amana Colonies
Arabia Steamboat Museum (Kansas City, MO)
Meals:  2 breakfasts, 5 continental breakfasts, 6 lunches or dinners